"Protecting your family's home from radon is our #1 priority"
Radon is a serious health concern with a simple solution: test, fix, save a life!
How does this work?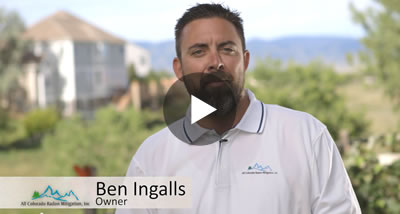 Radon mitigation can seem like an overwhelming task. All Colorado Radon makes the process easy and painless.
See how we can reduce the radon in your home
About Us
All Colorado Radon Mitigation, Inc. (Locally Owned and Operated) is dedicated to providing you with a mitigation system that not only eliminates the radon from your home or business, but is aesthetically pleasing as well.  We've designed and installed thousands of radon mitigation systems throughout Colorado, and we look forward to installing one for you.
Learn More about All Colorado Radon
Why is Radon a Concern?​
Radon is a colorless, odorless, radioactive gas that forms naturally in soil. Radon is produced when uranium in the soil breaks down.​ It can seep into our homes and workplaces through cracks and openings in floors and crawlspaces. When this happens, radon becomes part of the air we breathe.​ Each year, about 20,000 deaths in the U.S. are attributed to radon-caused lung cancer. .
Learn More about Radon Mitigation
Information for Realtors
Quick and Easy Process.
No Obligation, On Site Evaluations with Buyers/Sellers
Results Guaranteed, no excuses or back end charges *
Post Mitigation testing provided
3/5 year Warranty, no fine print *
Discounted Pricing for Real Estate Transaction Referrals
Radon Mitigation Info for Realtors